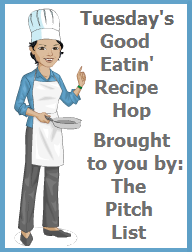 Welcome to the Good Eatin' Recipe Hop
hosted by
The 'Pitch List' Bloggers
Every Tuesday you can join us to share great recipes………
There are no specific themes. 
Add your recipe of choice to the linky.
No Giveaways Please…all giveaways will be removed.
We Love Comments! Please Share!
Since I did the
Thai Kitchen BBQ House Party
, I have been in love with their sauces and products.  Here is another recipe I found that uses fish sauce for a great flavor.
BBQ Thai Meatball Skewers
(Serves 4)
Ingredients:
1 lb ground beef
3 shallots, finely chopped
3 cloves garlic, chopped
1 inch piece fresh ginger, grated
1 tbsp peppercorns, crushed
2 tsp fish sauce
2 tsp brown sugar
Lime or Lemon wedges
Wooden skewers
Method:
Soak the wooden skewers in water to prevent them burning.
Add the ground meat, ginger, garlic, shallots, peppercorns, fish sauce and brown sugar into a bowl.  Careful combine with your hands. Form the mixture into balls using about 2 tsp of mixture at a time. Put three meatballs on each skewer.
Heat up your BBQ grill and oil lightly. Cook the meat for about 7 to 8 minutes or until the meet is cooked through.
Serve with the lime or lemon wedges.
Want to find some more great Thai recipes? Check out Thai Kitchen for some great ideas.

* This post may include referral links. By clicking on those links I may receive a small amount of money and/or points that can be redeemed for gift cards or other rewards.